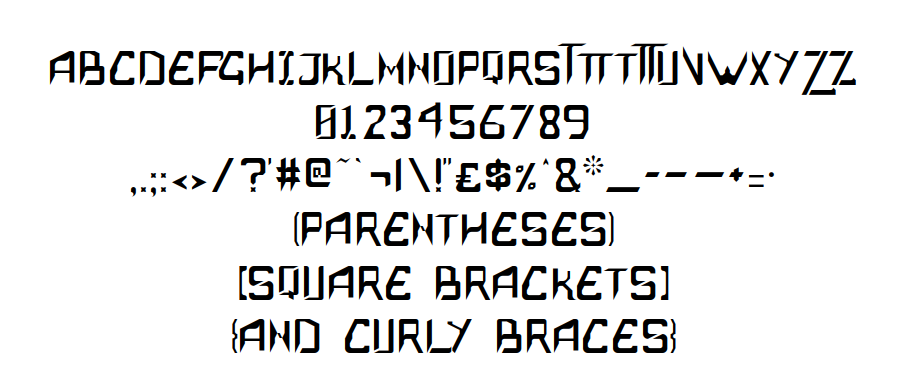 Zoom Zoom Truetype
Zoom Zoom is a font with janky sci-fi stylings. It has many dubious aesthetic choices, some due to my total inexperience at type design, some due to FontStruct — I like a free tool as much as the next penniless asshole, but the web remains a place where complex application-style UIs at best kinda work. Its tools are a bit limited, a bit janky, and I think I hit a few bugs.
Nonetheless: voilà. Sufficient uppercase letters (only) for Anglophone use — I might or might not get around to adding lowercase! — numerals and punctuation, skewed towards punctuation I regularly use (so the usual, plus a full complement of programmers' brackets, the Unicode bullet point bullet, and en and em dashes).
(Now with the uppercase letters duplicated as "lowercase" to simplify using the font! Also a sprinkling of rudimentary kerning! And I fixed the horrible "8" and "K" glyphs!
And I finally worked out how to add ligatures in FontForge!)
If you update from an older download, please be aware that the font's filename has changed, from zoom-zoom.ttf to Zoom Zoom Regular.ttf, because it cuts steps out of my current workflow. You may need to delete the old file, if you have it installed.
Zoom Zoom is licensed CC-0.